News
Knox County Youth Livestock Expo
Knox County Youth Livestock Expo Sponsored by the Knox County Farm Bureau
July 18, 2020 Knox County Fairgrounds – All Species
July 19, 2020 Equestrian Arena, Lake Storey Park – Horses
The guidelines listed HERE will need to be followed and maintained at all times.
*** If you are attending the LIVESTOCK SHOW ON SATURDAY, you have to fill out this WAIVER.***
*** If you are attending the HORSE SHOW ON SUNDAY, you have to fill our this WAIVER.***
July 18, 2020
6:00AM Gates Open
6:30 AM Weigh-In Begins
8:30 AM Show Begins
Show Order:
8:30 AM: Chickens and Rabbits – Poultry Barn
8:30 AM: Goats, Sheep, Hogs, Bucket Calves, Dairy, Cattle
Chickens
One entry per class
It is preferred that cages be brought from home. Limited cages will be available for use.
Meat Classes:
Consists of 3 birds (3 Males OR 3 Females)
· Broiler-fryer - each weighing under 4 pounds
· Roaster - each weighing 4 pounds or over
Large Fowl Classes:
American Breed
· Cockerel
· Pullet
· Pen
Asiatic Breed
· Cockerel
· Pullet
· Pen
English Breed
· Cockerel
· Pullet
· Pen
Mediterranean Breed
· Cockerel
· Pullet
· Pen
Other Standard Breed
· Cockerel
· Pullet
· Pen
Production Hybrid
· Cockerel
· Pullet
· Pen
All American Breeds: Rocks, Wyandotte, Rhode Island Reds
All Asiatic Breeds: All Feather Leg Breeds, Brahmas, Cochins, Langshans
All English Breeds: Sussex, Orpington, Australorp, Cornish
All Mediterranean Breeds: Leghorn, Minorca, Andalusian, Ancona
All Other Standard Breeds: Polish, Hamburg
All Production Hybrids: Production Reds and all other Crossbred
Bantams:
Clean Legged
· Cockerel
· Pullet
· Pen
Feather Legged
· Cockerel
· Pullet
· Pen
Rabbits
Two entries allowed in each category
California and Rex Classes:
· Senior Doe (over 8 months old)
· Senior Buck (over 8 months old)
· Doe (6 to 8 months old)
· Buck (6 to 8 months old)
· Junior Doe (under 6 months old)
· Junior Buck (under 6 months old)
Netherland Dwarf, Dutch, New Zealand, Holland Lop, Mini Lop, Mini Rex, All Other Breeds and Crossbreds Classes:
· Senior Doe (over 6 months)
· Senior Buck (over 6 months)
· Jr. Buck (under 6 months)
· Jr. Doe (under 6 months)
· Meat Pen is a pen of 3 rabbits. Recognized meat breeds of rabbits for State Fair will be allowed in this class. Rabbits are not to be over 70 days old or 5 pounds in weight.
Goats
A. BREEDING Goats (1 entry of each)
1. Doe Kid I (0-6 months)
2. Doe Kid II (6-12 months)
3. Yrlg. Doe I (12-18 months)
4. Yrlg. Doe II (18-24 months)
5. Aged Doe (24-36 months)
Grand Champion Doe overall
Reserve Champion Doe

A. MARKET
1. Single Market Goat (2 entries)
(born on or after Oct. 1, 2018)
Grand Champion Market Goat
Reserve Champion Market Goat
Sheep
A. BREEDING
1. Ewe Lamb (2 entries allowed) (born on or after Jan. 1, 2019)
2. Pair of ewe lambs (1 entry of 2)
2. Yrlg. Ewe (1 entry) (12-24months)
3. Aged Ewe (1 entry) (24-36 months)
ALL Breeds will be shown together!

B. MARKET
1. Single Market Lamb (2 entries allowed) (born on or after Jan. 1, 2019)
2. Pair of market lambs (1 entry of 2)
Market Lamb: Market lambs include ewe or wether lambs
Hogs
Two gilts and two barrows can be shown
All swine will be shown by weight.
Bucket Calves
One calf per exhibitor
Classes will be judged on 4-H'ers knowledge of project; no emphasis will be placed on quality or confirmation of calf.
Ages 4-12 eligible
Cattle
Two steers will be allowed, and unlimited females can be shown
All steers exhibited will be weighed for classification.
Breed classes will be shown by age.
Crossbred heifers will be exhibited by weight determined by declared or estimated weight.
Ages 8-21, plus bucket calves on the day of the show
Exhibitors must live in Knox County and/or be apart of a Knox County 4-H Club
Showmanship will be judged during the judging of species
All animals will be subject to State Health Regulations and Premises Identification Number. Health papers will be checked prior to unloading
Exhibitors will be able to leave after showing. Please respect other exhibitors who are still showing!
Animals may be stalled in barns or at trailers. No pens or bedding will be provided.
Must follow all local, state, and federal COVID-19 recommendations!
July 19, 2020
8:00 AM Registration Begins
9:00 AM Show Begins
HORSES
Show Order:
1. Pony Halter (56 inches & under)
2. Stock Type Mare Halter
3. Stock Type Gelding Halter
4. Light Horse Halter
5. Mule Halter
6. Sr. Showmanship
7. Jr. Showmanship
8. In Hand Trail
9. Trail
Lunch Break (Bring your own food or check-out a restaurant in Galesburg)
10. Open Saddle Seat
11. Sr. English Walk/Trot
12. Jr. English Walk/Trot
13. English Equitation
14. Hunt Seat Pleasure
15. Sr. Open Walk/Trot Equitation OT
16. Jr. Open Walk/Trot Equitation be OT
17. Sr. Western Walk/Trot
18. Jr. Western Walk/Trot
19. Sr. Western Horsemanship
20. Jr. Western Horsemanship
21. Sr. Western Pleasure
22. Jr. Western Pleasure
23. Barrels
24. Flags
25. Plug
26. Poles
27. Driving (2 or 4 wheel)
Jr. and Sr. High Point
Champion and Reserve in both divisions
OT= Optional Tack. Proper Attire required in all classes. Helmets are required while mounted. Judge's decision is final. No stallions are allowed. All horses out of control will be dismissed from the class. 5 minute tack change.
Ages 8-21
Exhibitors must live in Knox County and/or be apart of a Knox County 4-H Club
Ride at your own risk!
Clean all manure and trash around trailers.
Illinois Law – negative coggins and out of state coggins need health certificate.
All dogs must be on leash.
No alcohol on city grounds.
Must follow all local, state, and federal COVID-19 recommendations!
---
4th Annual Knox County Farm Bureau Foundation Golf Outing
Join us for a fun day of golf to help support the Knox County Ag in the Classroom program! Sign up will begin at 7:00 with a shotgun start at 8:00. Four-person teams playing best ball. The team entry fee is $240. The entry fee includes 18 holes of golf, lunch, and cart. All proceeds will benefit the Knox County Farm Bureau Foundation Ag in the Classroom and Scholarship Program.
To register or become a sponsor, click HERE.
---
Steve Johnson Webinar
A webinar titled Crop Marketing Strategies will be presented on Tuesday evening, June 16 at 7 pm CDT. The featured speaker will be Dr. Steve Johnson, Extension Farm Management Specialist with Iowa State University. The webinar is free but does require pre-registration.
Steve will review both old & new crop supply/demand & cash price projections, highlight crop marketing strategies & tools and feature written crop marketing plans for 1,000 acre row-crop example farm. The webinar will last one-hour followed by questions.
Please pre-register here https://attendee.gotowebinar.com/register/7677526165718660877
---
COVID-19 Resources
COVID-19 Resources: https://www.ilfb.org/resources/covid-19-resources/
---
We are Open!
Thank you for all your support during this trying time. The KCFB Office has reopened. For the safety of our staff and members, we ask that you follow these guidelines:
Membership payments can be taken over the phone, 309-342-2036, or online at myifb.org
Masks are required upon entering into the building.
Appointments are required. Please call to arrange a time.
Only one member will be allowed in the office at a time for an appointment.
Building doors will be unlocked. Office doors will be locked. Signs will designate this.
Bathrooms with be closed to the public.
If you have any questions or concerns, please direct those to Hailey at knoxcfb@knocfb.org or by calling 309-342-2036.
---
postponed Lawn Mower & Tractor Safety School
The Knox County Farm Bureau Young Farmers invite all 4-H and FFA members to attend the Lawn Mower & Tractor Safety School is POSTPONED. NEW DATE TO BE ANNOUNCED SOON. Wednesday, March 25 at Birkeys, 664 US Hwy 150 E, Galesburg. Registration will begin at 5:30 pm and the class will start promptly at 6:00 pm.
This program is for all youth who may operate lawn mowers or tractors and is a prerequisite for the Lawn Mower and Tractor Driving Contests that are held at the 4-H Fair in July.
All participates are encouraged to bring a parent, grandparent, or guardian. SMV emblems and other farm machinery areas will be discussed.
Pre-registration is not required. For more information, please contact the Knox County Farm Bureau office at 309-342-2036.
---
Cancelled: Farm Safety Day
Cancelled: 25th Anniversary Knox County Farm Safety Day
Due to the health and safety of our participants and volunteers from COVID-19, the planning committee for the 25th Anniversary Knox County Farm Safety Day has made the difficult decision to cancel this year's Farm Safety Day that was scheduled for June 27, 2020. The committee has rescheduled the event for next year on June 26, 2021. Please mark this date on your calendars and we hope everyone stays safe and healthy this summer.
---
DeSutter chosen as IFB Young Leader Chairman
CHICAGO — The Illinois Farm Bureau (IFB) Young Leader Committee elected its 2020 executive committee members during the IFB Annual Meeting, held in Chicago, Dec. 7-10.
The executive committee members, which include Chairman Drew DeSutter of Knox County, Vice-Chair Wayne Gehrke of Kane County, Secretary Jenny Jackson of Morgan County, Education and Recruitment Subcommittee Chair Gracelynn Dale of Bureau County, Achievement Subcommittee Chair Victoria Vogt of Monroe County and Governmental Affair and Commodities Subcommittee Chair Aaron Mitchell of Winnebago County, will assume their positions immediately.
Members of the IFB Young Leaders are 18- to 35-year-old men and women who are passionate about agriculture. It is a member-created, member-driven program of the IFB that allows members to promote agriculture, attend conferences and compete in events, including the Young Leader Achievement Award, Excellence in Agriculture Award and discussion meets. Giving back is also a priority for Young Leaders. Through their Harvest for All program, Young Leaders raise funds, donate food and contribute their time to help fight food insecurity throughout the state.
The Illinois Farm Bureau is a member of the American Farm Bureau Federation, a national organization of farmers and ranchers. Founded in 1916, IFB is a non-profit, membership organization directed by farmers who join through their county Farm Bureau. IFB has a total membership of more than 386,291 and a voting membership of 79,159. IFB represents three out of four Illinois farmers.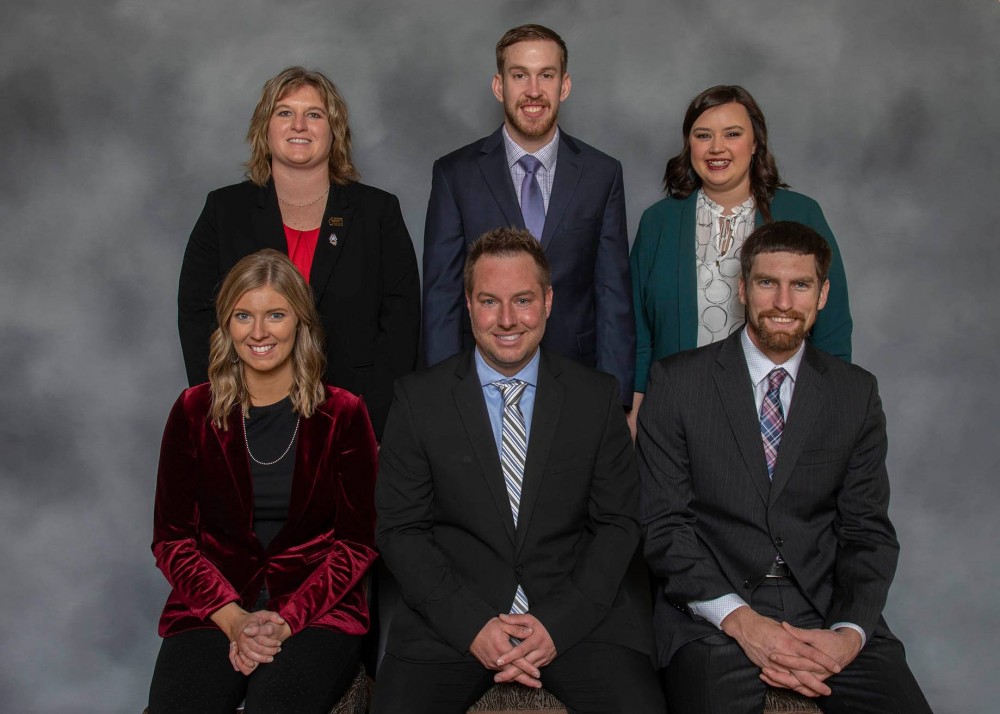 Front row (L to R): Jenny Jackson, Secretary; Drew DeSutter, Chair; Wayne Gehrke, Vice-Chair.
Back row (L to R): Victoria Vogt, Achievement Sub-Committee Chair; Aaron Mitchell, Governmental Affairs & Commodities Sub-Committee Chair; Gracelynn Dale, Education & Recruitment Sub-Committee Chair.
---
Chicago Representative visits Knox County
On November 20th, the Knox County Farm Bureau had the pleasure of hosting our Adopted Legislator Representative Lamont J. Robinson from the 5th District. His visit started at Jimmy's Pizza for an Economic Update by Ken Springer from the Knox County Area Partnership for Economic Development. During lunch with Representative Robinson, Representative Dan Swanson explained some of the differences to look for during the tour. Representative Swanson was unable to tour the rest of the day with us because as a hog farmer himself, he had to be cautious and courteous of his own livestock and the livestock on the other farms.
After lunch, we headed to Triple E Farms in Altona to visit with Knox County Pork Producers Association members Dan Erickson and Brenda Schubbe. It was discussed how much care goes into raising pigs. Holding the piglets was a great experience too!
After leaving Triple E, Jason Main hosted us to learn more about cattle and the show cattle world! Having the chance to ride on a 6-seater Ranger through the pasture was an experience the Representative will never forget!
4th Meridian Farm, Nathan and Aaron Link, and Jared Higgerson were proud to host the Representative for an awesome combine ride through the cornfield to help the brothers finish harvest. We were able to learn about the technology farmers use to help their operations!
Representative Robinson's visit concluded with dinner at The Packinghouse before he took the train back home.
This experience allowed members to gain another colleague in Springfield and Chicago as well as a friend. Thank you to the Representative for being optimistic and coming to visit as well as Christina Nourie from Illinois Farm Bureau for setting up this relationship through the Adopted Legislator Program! We look forward to visiting the Representative in Chicago once again at the IAA Annual Meeting!
---