News
Education & Outreach Task Force Holiday Cheese Sales
The 2020 Education & Outreach Task Force Holiday Cheese Sale has started! Orders are due Friday, December 4. Pick-up will be on December 15. Order forms can be found HERE.
---
Steve Johnson November Seminar- Online
Due to COVID-19 restrictions, the November Steve Johnson Seminar will be online.
With summer weather problems and Chinese Phase 1 demand, crop futures prices rallied contra-seasonally, putting in harvest futures price highs. Producers are storing some unpriced bushels despite the lack of futures price carry. To address these crop marketing strategy issues, a free live webinar is planned for Nov. 19 at 7 p.m.
ISU Ag Decision Maker will be hosting this webinar with featured speakers Steve Johnson, ISU Extension farm management specialist, and Ed Kordick, Iowa Farm Bureau farmer education program manager, presenting on:
Current corn and soybean supply/demand and price outlook
Local basis trends and futures price carry
Cost of grain ownership
Crop marketing strategies, tools, and market planning.
Pre-Registration is required and is available here: https://register.gotowebinar.com/register/878543185632016144
For more information on other webinars with Steve please visit the ISU Extension website here: https://www.extension.iastate.edu/agdm/info/meetings.html
---
COVID-19 Resources
COVID-19 Resources: https://www.ilfb.org/resources/covid-19-resources/
---
We are Open!
Thank you for all your support during this trying time. The KCFB Office has reopened. For the safety of our staff and members, we ask that you follow these guidelines:
Membership payments can be taken over the phone, 309-342-2036, or online at myifb.org
Masks are required upon entering into the building.
Appointments are required. Please call to arrange a time.
Only one member will be allowed in the office at a time for an appointment.
Building doors will be unlocked. Office doors will be locked. Signs will designate this.
Bathrooms with be closed to the public.
If you have any questions or concerns, please direct those to Hailey at knoxcfb@knocfb.org or by calling 309-342-2036.
---
DeSutter chosen as IFB Young Leader Chairman
CHICAGO — The Illinois Farm Bureau (IFB) Young Leader Committee elected its 2020 executive committee members during the IFB Annual Meeting, held in Chicago, Dec. 7-10.
The executive committee members, which include Chairman Drew DeSutter of Knox County, Vice-Chair Wayne Gehrke of Kane County, Secretary Jenny Jackson of Morgan County, Education and Recruitment Subcommittee Chair Gracelynn Dale of Bureau County, Achievement Subcommittee Chair Victoria Vogt of Monroe County and Governmental Affair and Commodities Subcommittee Chair Aaron Mitchell of Winnebago County, will assume their positions immediately.
Members of the IFB Young Leaders are 18- to 35-year-old men and women who are passionate about agriculture. It is a member-created, member-driven program of the IFB that allows members to promote agriculture, attend conferences and compete in events, including the Young Leader Achievement Award, Excellence in Agriculture Award and discussion meets. Giving back is also a priority for Young Leaders. Through their Harvest for All program, Young Leaders raise funds, donate food and contribute their time to help fight food insecurity throughout the state.
The Illinois Farm Bureau is a member of the American Farm Bureau Federation, a national organization of farmers and ranchers. Founded in 1916, IFB is a non-profit, membership organization directed by farmers who join through their county Farm Bureau. IFB has a total membership of more than 386,291 and a voting membership of 79,159. IFB represents three out of four Illinois farmers.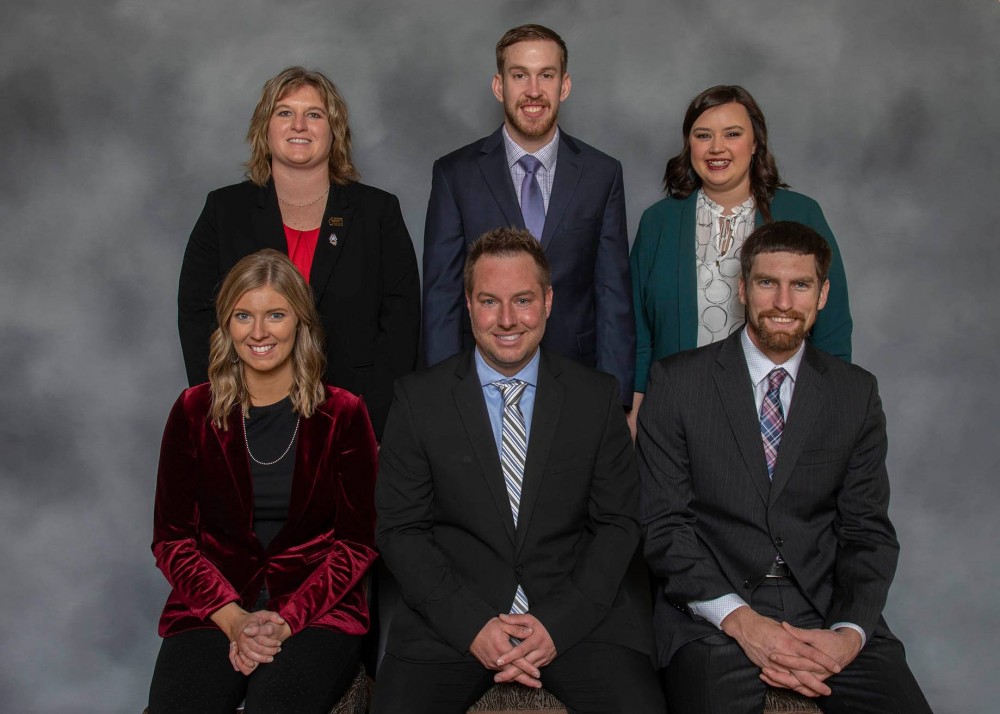 Front row (L to R): Jenny Jackson, Secretary; Drew DeSutter, Chair; Wayne Gehrke, Vice-Chair.
Back row (L to R): Victoria Vogt, Achievement Sub-Committee Chair; Aaron Mitchell, Governmental Affairs & Commodities Sub-Committee Chair; Gracelynn Dale, Education & Recruitment Sub-Committee Chair.
---