News
Anhydrous Ammonia Certified Grower Training
All growers or grower farm operators who transport or apply anhydrous ammonia, or otherwise maintain anhydrous ammonia equipment, must become certified by April 1, 2022 through @illinois.agriculture certified grower training.
Attendance is limited for each session. Growers may register at http://www.ilfb.org/NH3 to guarantee their seat and learn more information.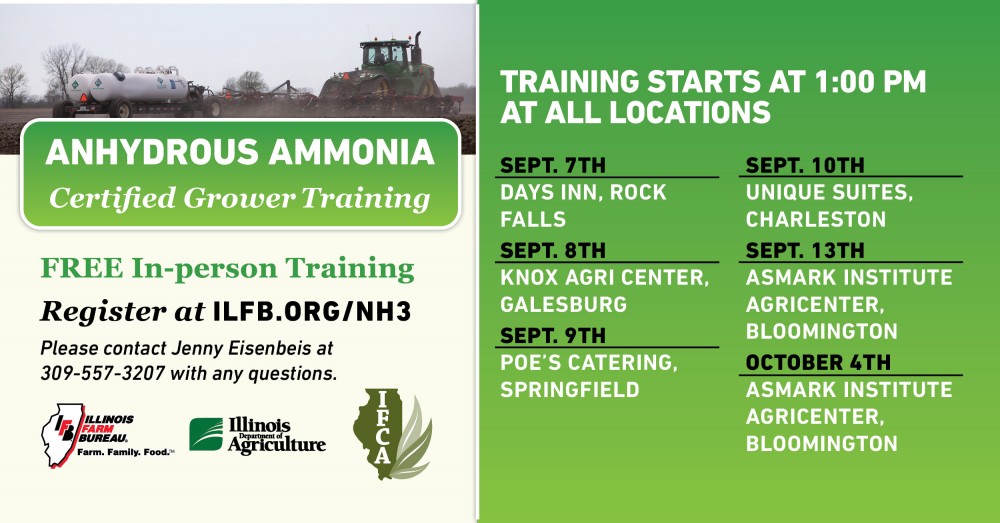 ---
Watershed Planning Meeting
The Mississippi North Central Watershed was identified as a priority in the Illinois Nutrient Loss Reduction Strategy (NLRS). As such, it is one of the state's most critical watersheds. Illinois Farm Bureau (IFB), together with multiple County Farm Bureaus, Soil and Water Conservation Districts (SWCD), the University of Illinois (U of I) Extension, and Northwater Consulting are committed to sharing NLRS information with farmers across the watershed, listening to conservation needs and concerns, and prioritizing work for watershed planning purposes.
Knox County Farm Bureau will be hosting its planning meeting on August 10 at 6PM at the Agri Center. Dinner will be provided. RSVP's are due August 3 to the office. More information can be found HERE. Information on the Mississippi North Central Watershed can be found HERE.
---
We are Open!
Thank you for all your support during this trying time. The KCFB Office has reopened. For the safety of our staff and members, we ask that you follow these guidelines:
Membership payments can be taken over the phone, 309-342-2036, or online at myifb.org
Masks are required upon entering into the building.
Appointments are required. Please call to arrange a time.
Only one member will be allowed in the office at a time for an appointment.
Building doors will be unlocked. Office doors will be locked. Signs will designate this.
Bathrooms with be closed to the public.
If you have any questions or concerns, please direct those to Hailey at knoxcfb@knocfb.org or by calling 309-342-2036.
---