News
Steve Johnson Webinar
A webinar titled Crop Marketing Strategies will be presented on Tuesday evening, June 16 at 7 pm CDT. The featured speaker will be Dr. Steve Johnson, Extension Farm Management Specialist with Iowa State University. The webinar is free but does require pre-registration.
Steve will review both old & new crop supply/demand & cash price projections, highlight crop marketing strategies & tools and feature written crop marketing plans for 1,000 acre row-crop example farm. The webinar will last one-hour followed by questions.
Please pre-register here https://attendee.gotowebinar.com/register/7677526165718660877
---
COVID-19 Resources
COVID-19 Resources: https://www.ilfb.org/resources/covid-19-resources/
---
Updated Schedule
Office Closed March 19 - June 5, 2020 as of 5/29/2020 8:00 am
KCFB cares about the health and safety of our community and members. Our members are our top priority and we will continue to offer services while keeping everyone's health in mind. If you need to drop off a payment or anything else, please utilize our drop box to the right of our double doors.
If you need to schedule an appointment or if there is an emergency, contact 309.342.2036 (calls are forwarding) or knoxcfb@knoxcfb.org
---
postponed Lawn Mower & Tractor Safety School
The Knox County Farm Bureau Young Farmers invite all 4-H and FFA members to attend the Lawn Mower & Tractor Safety School is POSTPONED. NEW DATE TO BE ANNOUNCED SOON. Wednesday, March 25 at Birkeys, 664 US Hwy 150 E, Galesburg. Registration will begin at 5:30 pm and the class will start promptly at 6:00 pm.
This program is for all youth who may operate lawn mowers or tractors and is a prerequisite for the Lawn Mower and Tractor Driving Contests that are held at the 4-H Fair in July.
All participates are encouraged to bring a parent, grandparent, or guardian. SMV emblems and other farm machinery areas will be discussed.
Pre-registration is not required. For more information, please contact the Knox County Farm Bureau office at 309-342-2036.
---
Cancelled: Farm Safety Day
Cancelled: 25th Anniversary Knox County Farm Safety Day
Due to the health and safety of our participants and volunteers from COVID-19, the planning committee for the 25th Anniversary Knox County Farm Safety Day has made the difficult decision to cancel this year's Farm Safety Day that was scheduled for June 27, 2020. The committee has rescheduled the event for next year on June 26, 2021. Please mark this date on your calendars and we hope everyone stays safe and healthy this summer.
---
DeSutter chosen as IFB Young Leader Chairman
CHICAGO — The Illinois Farm Bureau (IFB) Young Leader Committee elected its 2020 executive committee members during the IFB Annual Meeting, held in Chicago, Dec. 7-10.
The executive committee members, which include Chairman Drew DeSutter of Knox County, Vice-Chair Wayne Gehrke of Kane County, Secretary Jenny Jackson of Morgan County, Education and Recruitment Subcommittee Chair Gracelynn Dale of Bureau County, Achievement Subcommittee Chair Victoria Vogt of Monroe County and Governmental Affair and Commodities Subcommittee Chair Aaron Mitchell of Winnebago County, will assume their positions immediately.
Members of the IFB Young Leaders are 18- to 35-year-old men and women who are passionate about agriculture. It is a member-created, member-driven program of the IFB that allows members to promote agriculture, attend conferences and compete in events, including the Young Leader Achievement Award, Excellence in Agriculture Award and discussion meets. Giving back is also a priority for Young Leaders. Through their Harvest for All program, Young Leaders raise funds, donate food and contribute their time to help fight food insecurity throughout the state.
The Illinois Farm Bureau is a member of the American Farm Bureau Federation, a national organization of farmers and ranchers. Founded in 1916, IFB is a non-profit, membership organization directed by farmers who join through their county Farm Bureau. IFB has a total membership of more than 386,291 and a voting membership of 79,159. IFB represents three out of four Illinois farmers.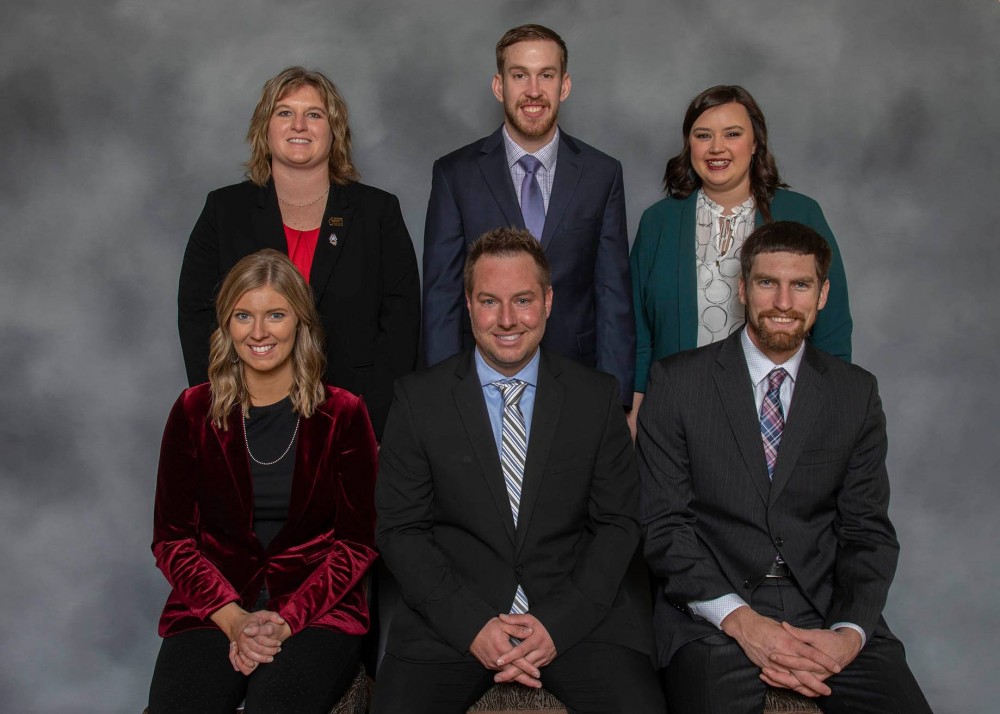 Front row (L to R): Jenny Jackson, Secretary; Drew DeSutter, Chair; Wayne Gehrke, Vice-Chair.
Back row (L to R): Victoria Vogt, Achievement Sub-Committee Chair; Aaron Mitchell, Governmental Affairs & Commodities Sub-Committee Chair; Gracelynn Dale, Education & Recruitment Sub-Committee Chair.
---
Chicago Representative visits Knox County
On November 20th, the Knox County Farm Bureau had the pleasure of hosting our Adopted Legislator Representative Lamont J. Robinson from the 5th District. His visit started at Jimmy's Pizza for an Economic Update by Ken Springer from the Knox County Area Partnership for Economic Development. During lunch with Representative Robinson, Representative Dan Swanson explained some of the differences to look for during the tour. Representative Swanson was unable to tour the rest of the day with us because as a hog farmer himself, he had to be cautious and courteous of his own livestock and the livestock on the other farms.
After lunch, we headed to Triple E Farms in Altona to visit with Knox County Pork Producers Association members Dan Erickson and Brenda Schubbe. It was discussed how much care goes into raising pigs. Holding the piglets was a great experience too!
After leaving Triple E, Jason Main hosted us to learn more about cattle and the show cattle world! Having the chance to ride on a 6-seater Ranger through the pasture was an experience the Representative will never forget!
4th Meridian Farm, Nathan and Aaron Link, and Jared Higgerson were proud to host the Representative for an awesome combine ride through the cornfield to help the brothers finish harvest. We were able to learn about the technology farmers use to help their operations!
Representative Robinson's visit concluded with dinner at The Packinghouse before he took the train back home.
This experience allowed members to gain another colleague in Springfield and Chicago as well as a friend. Thank you to the Representative for being optimistic and coming to visit as well as Christina Nourie from Illinois Farm Bureau for setting up this relationship through the Adopted Legislator Program! We look forward to visiting the Representative in Chicago once again at the IAA Annual Meeting!
---