News
Hunter Safety Course
This course if currently full. Please call the Farm Bureau Office to be added to our wait list. 309.342.2036
Area residents, 8 years old and above, will have an opportunity to learn basic principles of safe hunting at a Department of Natural Resources hunter safety course sponsored by the Knox County Farm Bureau Young Farmers. This free course will be held at the Knox Agri-Center, 180 S. Soangetaha Rd, Galesburg, on Friday, September 17, 2021 from 6:00-9:00 pm and Saturday, September 18, 2021 from 8:00 am-3:30 pm. Participants must attend both session days. A snack will be provided on Friday evening and lunch provided on Saturday.
Participants must be 8 years old and above. A 1996 state law requires that all hunters born on or after January 1, 1980 must successfully complete the hunter education course before they can receive their first hunting license. Participants completing the hunter education course will receive a Hunter Education Certification card verifying that they have passed the course of instruction.
Classes are free and taught by volunteer instructors. The programs are primarily designed to train young people between the ages of 12-18 and materials are based on a sixth-grade reading level. Anyone under the age of 10 has to be accompanied by an adult the whole class.
The minimum ten hour course includes instruction in wildlife management, firearms safety, hunter ethics, game identification, first aid, survival techniques and regulations. This course is limited to 35 participants and will be filled on a first come, first served basis. Please call the Knox County Farm Bureau with any questions 309.342.2036
This course is sponsored by the Knox County Farm Bureau Young Farmers.
Registration available
HERE
.
---
Anhydrous Ammonia Certified Grower Training
All growers or grower farm operators who transport or apply anhydrous ammonia, or otherwise maintain anhydrous ammonia equipment, must become certified by April 1, 2022 through @illinois.agriculture certified grower training.
Attendance is limited for each session. Growers may register at http://www.ilfb.org/NH3 to guarantee their seat and learn more information.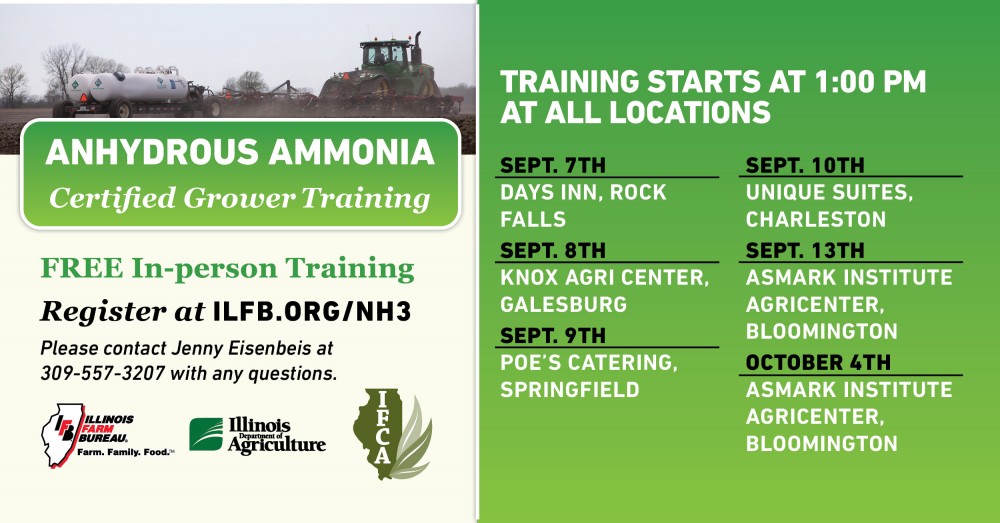 ---
We are Open!
Thank you for all your support during this trying time. The KCFB Office has reopened. For the safety of our staff and members, we ask that you follow these guidelines:
Membership payments can be taken over the phone, 309-342-2036, or online at myifb.org
Masks are required upon entering into the building.
Appointments are required. Please call to arrange a time.
Only one member will be allowed in the office at a time for an appointment.
Building doors will be unlocked. Office doors will be locked. Signs will designate this.
Bathrooms with be closed to the public.
If you have any questions or concerns, please direct those to Hailey at knoxcfb@knocfb.org or by calling 309-342-2036.
---