Events
PrimeTimers Winery Tour
The May outing is Tuesday, May 21st at Hidden Hills Winery, Knoxville. The winery tour starts at 12 PM and potluck dinner is planned for 12:45 PM. Please bring your favorite dish to pass and your own table service. Iced tea, lemonade, and water will be provided by hosts Janet & Dale Malone and KCFB. Wine tasting is available at $3.00 per person. RSVP by May 17th by calling Janet at 309.368.6741 or KCFB at 309.342.2036.
---
Steve Johnson Marketing Seminar
Dr. Steve Johnson, Farm & Ag Business Management Specialist from Iowa State University Extension, will be at the Knox Agri-Center on Tuesday, June 18, 2019 at 7:00 p.m. to present a marketing seminar titled "Crop Marketing Strategies to Survive the Current Farm Economy."
Steve serves as the Farm & Ag Business Management Specialist in Central Iowa for Iowa State University Extension. He presents annually at nearly 100 meetings, workshops, seminars and conferences across the Corn Belt and interacts with more than 10,000 producers.
He holds BS and MS degrees from Iowa State University and his Ph.D. from Colorado State University. Steve specializes in topics related to grain marketing, government farm programs, crop insurance, farmland leasing and other risk management strategies.
Steve posts monthly free newsletters, webcasts and updates on both ISU Extension Ag Decision Maker and the Polk County Extension Farm Management web sites. Reserve your seat HERE or call the KCFB office at 309.342.2036.
---
Craig Morgan Concert
Purchase Craig Morgan Tickets at the Knox County Farm Bureau Office
General Admission $20
Holding Pen (standing room only) $30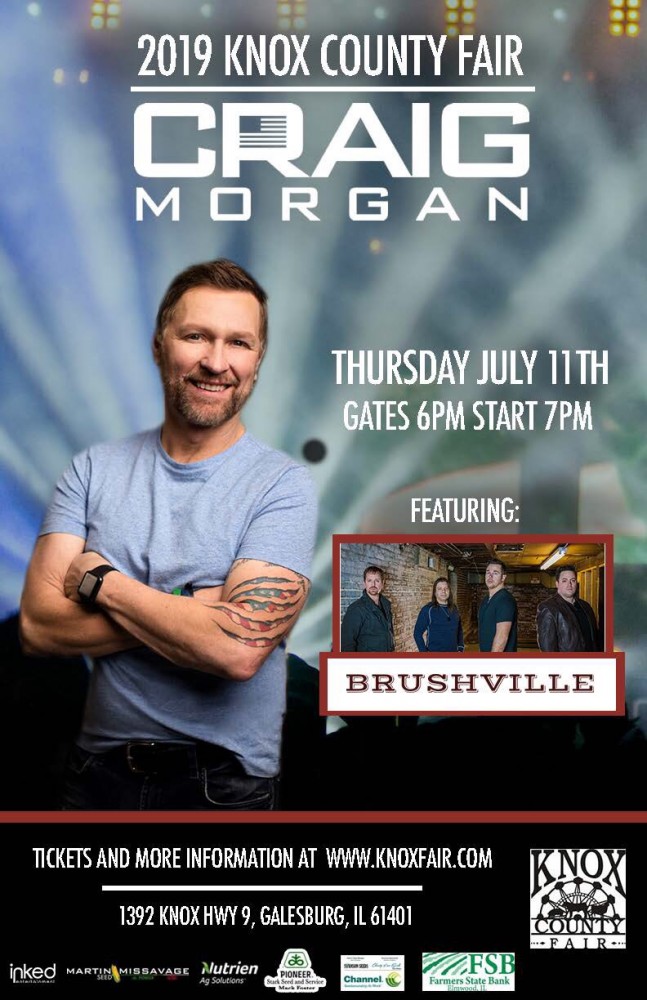 ---
6/28-29/19 Free Hunter Safety Course
Area residents, 8 years old and above, will have an opportunity to learn basic principles of safe hunting at a Department of Natural Resources hunter safety course sponsored by the Knox County Farm Bureau Young Farmers. This free course will be held at the Knox Agri-Center, 180 S. Soangetaha Rd, Galesburg, on Friday, June 28, 2019 from 5:30-9:00 pm and Saturday, June 29, 2019 from 8:00 am-3:00 pm. Participants must attend both session days. A snack will be provided on Friday evening and lunch provided on Saturday.
Participants must be 8 years old and above. A 1996 state law requires that all hunters born on or after January 1, 1980 must successfully complete the hunter education course before they can receive their first hunting license. Participants completing the hunter education course will receive a Hunter Education Certification card verifying that they have passed the course of instruction.
Classes are free and taught by volunteer instructors. The programs are primarily designed to train young people between the ages of 12-18 and materials are based on a sixth-grade reading level.
The minimum ten hour course includes instruction in wildlife management, firearms safety, hunter ethics, game identification, first aid, survival techniques and regulations. You must pre-register HERE or by calling the Knox County Farm Bureau office at 309-342-2036. This course is limited to 40 participants and will be filled on a first come, first served basis.
This course is sponsored by the Knox County Farm Bureau Young Farmers and Knox County Pheasants Forever.
---